Hello, Friends!
March is finally here. In fact, we are half way through it. The rains have slackened and warm gorgeous weather is starting to be the norm. When we look back at our last newsletter (January) we stated we had received over 36" of rain up to that point for the season (July through June). And we thought that was a lot! As of right now we've far exceeded that amount! In fact, we are now past 62" and the rainy season is not yet over! I guess the old saying 'be careful what you wish for' can be applied here, for we seem to be inching up to almost double the average rainfall of 35-40" in our area. What's up with that? Definitely, it's got to be climate change working its mayhem with our weather system. No doubt about it.

But observing the vineyards--walking the rows, examining the vines that are just starting to show bud break–the little green popping out--they are doing fine despite all the extra rain. In fact they are flourishing. Whatever we learned through the drought years we definitely learned that grape vines are survivors. They can take whatever comes their way. And also, as we learned from the drought, grape vines optimally situated, with a good ratio of sun, soil, and moisture, can definitely flourish and endure. As long as they have this ratio all is good.

Of course, every living thing on earth needs water to survive–some more than others. A cactus plant can live for years with a drop of moisture compared to a fern or a redwood tree that require abundant amounts of water to survive and flourish. But a grapevine? What is the optimum amount of moisture for it to perform at its best? During the drought we learned that stressing the vines a bit from lack of water gave the fruit more something–a certain je ne sais quoi. But now that we have gone through a very wet season what will the harvest bring? Do grapevines do something different in times of heavy water to compensate? Our questions will have to wait for we know the answers will only be in the harvest– the vintage– the wine. So, once again, it's up to the gods. While we wait for the harvest to bring us answers we are hoping for a little less rain from above, though we definitely can't complain at this point. So far all is good.

And it was a good day filled with splendid sunshine when we held our Valentine's wine club pick up party at Vine Hill House on February 12th. We had planned an inside event but the weather cooperated and allowed us to expand to the back lawn for a needed sunshine break. We hope everyone who came enjoyed it. We did! It was so nice to see and catch up with all of you who attended. Chocolates with pizza and tarte flambée baked on the spot were consumed along with champagne, and our 2015 Estate Grown Pinot Noir. At the end of the event two drawings were held--one for a Chardonnay and one for a Pinot. Our winners were both club members. Laura Simpson won the Chardonnay and Bill Lukens won the Pinot. We congratulate you both!

Our next adventure will be attending Charlie Palmer's Pigs & Pinot event on March 17-18 at the Dry Creek Kitchen at Hotel Healdsburg. If you want to attend this wonderful event you will have to make plans for next year as unfortunately, it is sold out! Suffice it to say tickets sell out in minutes after going on-line. People come from every part of the globe. It's really amazing! This is the place to taste both the best Pinots from the Russian River Valley and pork creations by the best world renowned chefs. You will not be disappointed. It's a lot of fun for a good cause. We will be there both evenings and will give you the scoop next newsletter. Since we won best Pinot Noir at last year's event we will give the featured presentation at the Gala dinner at Dry Creek Kitchen on Saturday evening.

Keep your eye out for your invitation to our annual Spring Celebration pick up party coming up on Sunday, April 23rd. We don't want to give it away but let's just say it's the 50th anniversary of the Summer of Love! There will be great food, groovy music and, of course, great wine! Be there or be square!

By now the vineyards have been pruned, tied, and mowed. The flail mower cleaned the rows of old prunings and they looked poised as they start to shoot forth their new vintage. March is such a pivotal month. Winter and Spring come together, sometimes colliding as they did last week. Beautiful sunshine, heavy downpours and even hail. We are on the cusp.



Until next time,

Happy early spring!

from Dan and Jan and everyone
at O'Connell Vineyards and Vine Hill House

"True love is like a fine wine..."
Join our Wine Club!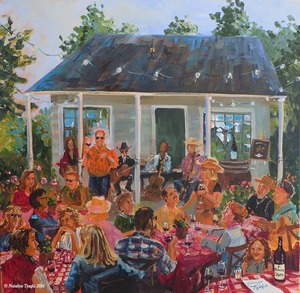 Enjoy amazing 20% discounts all year long!

Contact Dan or Jan at O'Connell Vineyards regarding your membership, to order wine
and for wine club events at the number below, or visit our website at oconnellvineyards.com to sign up.

CLICK HERE
to email your order

If you prefer to place your order by phone,
please contact us directly at 888-889-0929.

You may also pick-up your order at the vineyard.


---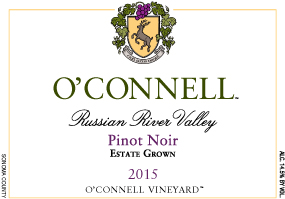 2015 Estate
Pinot Noir
Our delicious Burgandy style Pinot -
perfect for any occasion!



$45.00 per bottle
CLICK HERE
to place your order