Hi Friends,


Happy Summer!

We woke up this morning to a light summer fog gently blanketing the vineyards and beyond. After the last few days of higher than usual temperatures (in the 90's), it was a welcome relief. Nonetheless, it broke early to morning sunshine and we are now enjoying another perfect summer day here in the Russian River Valley. We are fortunate we live in beautiful Sonoma County where summer is really summer! Days of cool mornings (perfect for working outdoors) followed by lazy hot afternoons and cooler evenings. It can't get better than this.

Last year at this time, as we kicked the dust around in the vineyards, we were wondering when the rains might come. The drought had caused much worry throughout the state as it hung over our heads all year long. Farmers predicted a lighter crop last year, and it was. We were geared up for more of the same. But thank goodness the rains came. Seems like a long time ago now, but back then the drought and all its challenges were the main thing on our minds. All the wonderful rainfall we received over the past winter and spring allayed our fears. But it's funny how fast we can forget. Could it happen again this next winter? We hope not, but who knows? Anything goes with global warming. As farmers all we can do is work with it, and pray.

Right now everything growing around us just seems bigger and more luscious, the birds more plentiful and their songs cheerier. Could this be? We sure think so. Nature seems happy again, more in tune.

Out in the vineyards the extra growth is evident for the vines are really growing taller and faster this year than in past years. We have already suckered, trimmed and de-leafed. A little cluster busting is in store, but we seem to already be caught up. Overall our crop appears to be larger, and each grape a bit more plump than in the last few years. It is developing beautifully. We shall see the results at harvest time.


And later this month we will once again witness veraison. It is definitely a turning point in the pinot noir growing process for at that time the little hard green berries change over the course of a week into gorgeous purple grape clusters that cloak the vineyard rows. What exactly does the term 'veraison' mean? It is a french term meaning 'the onset of ripening'. It represents the transition from berry growing to berry ripening. It is at this time that the grape berries start to become progressively softer and take on the color characteristics of their specific varieties. In other words they are on their way to harvest. Won't be long after veraison happens. Every year this transition is fascinating to behold!

And in the cellar our 2015 Pinot Noir is wasting no time turning into another exceptional vintage. It always seems to be a miracle that the juice can sit for so long (a year or more) and then transform itself into something so different from what went into the barrel, changing from simply juice of the grape to incredibly elegant wine. It's wondrous! And so delicious! We will be bottling it in August.

The inaugural vintage of our newest venture, a fabulous Russian River designated Chardonnay, has finally reached its max in the barrel. We will be bottling it this month. Look forward to sampling some of this crisp refreshing Chard at our next wine club event coming in September. We can't wait to taste it! It should be a pleasure!

As for all of you in our wine club please remember to mark your calendars for Sunday, September 11, 2016. Our first ever All American Harvest Barbeque event will be happening! We are working on it now. Look forward to a fun afternoon of fabulous wine, food, great music, dancing and mingling at Vine Hill House. Keep your eye out for your invitation being sent out in August. This will be a fab event! Don't miss it!

If you are new to the wine club please remember all wine club events are free to members plus one guest. If you are not in our wine club start enjoying fabulous discounts on our award winning wine and free entry to exclusive events at Vine Hill House, our private event facility at the ranch by joining now! Just go on line to our website to the wine club page and fill out the form. You can't lose!

Cheers to a beautiful summer!

See you in September!




From Dan and Jan and everyone at
O'Connell Vineyards and Vine Hill House



"True love is like a fine wine..."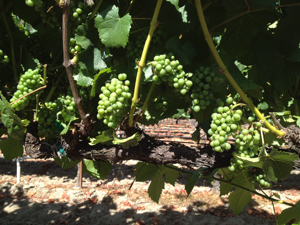 ---



Here is a delicious recipe we found online for a summer BBQ that pairs beautifully with our Pinot Noir: Complements of The Food Charlatan:




Cuban Mojo
Marinated Pork


Ingredients:

3/4 cup olive oil
1 T orange zest
3/4 cup fresh orange juice
1/2 cup fresh lime juice
1cup cilantro, finely chopped
1/4 cup lightly packed mint leaves, finely chopped
8 garlic cloves, chopped
1 T minced oregano (or 2 t dried oregano)
2 t ground cumin
salt and pepper
3 ½ pounds boneless pork shoulder
(Or you can use a small boneless pork roast. Reduce all ingredients above by half)

Instructions:

1. In a food processor add all ingredients listed through garlic. Pulse until all is finely chopped.

2. Put this mixture into a plastic ziplock bag, along with the rest of the ingredients listed through cumin. Shake all around, then add pork.

3. Place zipped up bag in the fridge overnight, or for several hours at least.

4. Preheat oven to 425 degrees F. Place a wire rack over a rimmed baking sheet.

5. Place the pork on the rack. Discard the marinade. Salt and pepper the pork well.

6. Roast the pork for 30 minutes. It should be lightly browned.

7. Turn oven down to 375 degrees F. Roast for another 1 hour and 20-30 minutes, or until meat thermometer reads 160.

8. Transfer to cutting board. Cover with aluminum foil and let rest at least 20 minutes.

9. Carve against the grain and serve.

Yields: 6