Hi Friends,

It is almost Thanksgiving, the most beautiful time of year in wine country. Looking around we see the fall leaves in piles everywhere, drifting against the trees up our driveway, coating the rows in the vineyards and blending with the new green grasses in our orchards. The colors are so vivid - reds, oranges, yellows, browns. I think they are what we remember the most about fall at any other time of year, a kaleidoscope of warm colors. How fitting for Thanksgiving, a warm family holiday.

It's sure nice to slow down now for it's been a packed year for us. Where did the months go? Our very busy event season has finally wound down and it seems like harvest (September 6th this year) just passed by. With all the nerves leading up to choosing the perfect day for harvest each year - all the testing, retesting, discussions and samples taken and all the watching and waiting - it can feel almost like awaiting child birth. When finally the day dawns - the heavens are aligned and everyone has agreed - it's time! - the grapes are ready! - our new crop arrives in the early dawn amid a scramble of activity. When all is said and done, when all the vines have finally been freed from their heavy burdens, when all our grapes are finally resting in the tanks at the winery, we know then that our new crop has finally been born.

This year's crop, our 2014 harvest, has been enjoying its new life for a little over two months. Resting quietly in the barrel after all the hoopla of harvest it gets to slumber through the winter and next spring. Over this next year the most useful tool of wine making, time, will work its magic on the lush juice held within the barrels, transforming it from mere grape juice into our next vintage of delicious Pinot Noir wine. As with our 2013 harvest now finishing up its maturing in the bottle, what a wonderful transformation it will be! We cannot wait to taste it! It's just a matter of time...

As we wait for our new 'babies' to mature, we can definitely enjoy our 2012 vintage Pinot Noir, on hand now but supplies are quickly depleting. It's the perfect accompaniment for Holiday entertaining. Delicious with any menu, it brings pleasure to every meal and social gathering. It also makes a great gift for the wine lover who appreciates a fine wine that's drinkable now or can be laid aside for later.


Happy Holidays!

Dan and Jan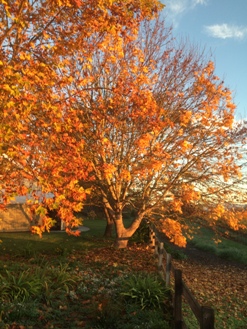 Join our Wine Club! -
enjoy amazing discounts
all year long on wine!
Contact Dan or Jan at O'Connell Vineyards regarding your membership, to order wine
and for wine club events at the number below, or visit our website at www.oconnellvineyards.com to sign up.

CLICK HERE
to email your order
If you prefer to place your order by phone, please contact us directly at 888-889-0929.

You may also pick-up your order at the vineyard.