Dear Friends,

Happy New Year to you from us! We are recovering from our very busy event season here at O'Connell Vineyards. Perhaps you were at one of our events this past summer or fall? If so we hope you have warm memories to keep off the winter chill.

So far this winter has been a chilly one! We have been experiencing an unusual bout of below average temperatures with extended periods of frost. As yet we have had no significant rainfall. When we can kick around dust in the vineyard at this time of year we know something weird is up. In fact, with an average yearly rainfall in our area of 20 inches, we get nervous when we think about the entire 2013 rainfall at only 3 inches. This is definitely not the usual. Everyone is going around doing a rain dance in their heads now, hoping for normalcy.

Thank goodness for the letter to our local paper that reminded us the 'Farmers Almanac' predicts no rain for November and December with much rain in January and February. The letter was definitely a calming influence as we wait for that prediction to hopefully come true.

Until then a great way to banish this winter weather and create some wonderful new memories is to celebrate the season with a bottle of our 2012 Estate Grown Pinot Noir. For a limited time we would like to offer you, our friends, a special discount of 10% off your purchase of our awarding winning Pinot Noir wine.

Send us your order and if we are allowed to ship to your area we will ship right out to you. You can order on our website, by email, fax or phone us. Any which way works fine. Until we hear from you then,

We wish you Good Wine and Good Friends in 2014!
Happy New Year!





- Dan and Jan O'Connell
and Staff

"True love is like fine wine..."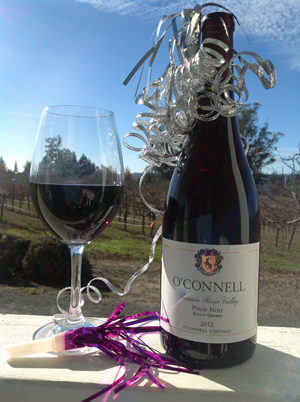 2012 Estate Pinot Noir
$45.00 retail
-10% discount
$40.50 per bottle to you
Order Now - Don't miss out on this delicious small lot wine offering!
Join our Wine Club! -
enjoy amazing discounts
all year long on wine!
Contact Dan or Jan at O'Connell Vineyards regarding your membership, to order wine
and for wine club events at the number below, or visit our website at www.oconnellvineyards.com to sign up.

CLICK HERE
to email your order

If you prefer to place your order by phone, please contact us directly at 888-889-0929.

You may also pick-up your order at the vineyard.