Dear Friends,

The new year has been upon us for a good month now. And with it has come colder than usual weather for the Russian River wine country. We've experienced frost most mornings with dark and dreary skies over the month of January. It's not such a bad thing for us sunny California 'weather wimps', or for most of our crops. We did cover our fragile fruit trees this year–the lemons, oranges and even the new little pomegranate tree. They look stark and a bit frightening in the dark, like ghosts, all wrapped up in white. While the sun has made it back into the sixties and we've been able to enjoy warm afternoons, the evening temperatures have continued to shoot back down into the twenties to low thirties. Our plants haven't known what to do, nor have we. Do we take off the frost protection? Leave it on? All the plants have received a heavy dose of 'Cloud Cover' as a back up but still, who wants to cover at night, uncover each morning. But we know this added hassle will definitely pay off when we pick a medley of fresh fruit in the months ahead...

Our Pinot Noir vines aren't complaining. In fact, the cold is good for them now. All pruning has been completed. The vineyards look clean and ready. Last year we instituted a new pruning technique, called a kicker, with usually two kickers on each vine, on a limited number of rows. And with the incredible crop we experienced last fall, we found these vines were laden with more bunches of fruit than the vines pruned the usual way. So this year we decided to expand the 'kicker' technique through out the vineyards, using one kicker per vine to make sure we did not overcrop the vines this year. Right now the little kicker can be seen standing up on each vine throughout the vineyards waiting to expand into more buds for possible set. With the vagaries of weather the past few years it is a little hedge that has already come in handy.

We also decided to add twelve and fourteen inch cross arms throughout the vineyards to manage light and air flow. This was another new idea we tested last year and were very happy with the results. Overall these two changes should improve our crop in the coming years.

If you've never been to our ranch before please stop in and visit us when you are out this way. We'd really enjoy meeting you and giving you a tour of our vineyards. And of course, we always love to catch up with those of you who have been here before. If you know Dan, you know he loves any excuse to pop a cork and chat about Pinot Noir. He'll talk about anything really--the weather, wine, apples, vineyards, you name it, but it's always better over a glass of wine with friends, whether old or new. We'll keep an eye out and a glass ready for you. Until then,

We wish you good wine and good friends in 2013!!
Happy New Year!


- Dan and Jan O'Connell

"True love is like fine wine..."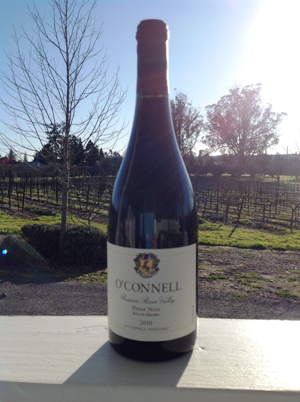 2010 Estate Pinot Noir
$42.50 retail
-10% discount
$38.25 per bottle to you


Order Now—Don't miss out on this delicious
small lot wine offering!

Join our Wine Club! -
enjoy amazing discounts
all year long on wine!

Contact Dan or Jan at O'Connell Vineyards regarding your membership, to order wine and for wine club events at the number below, or visit our website at www.oconnellvineyards.com to sign up.

CLICK HERE
to email your order

If you prefer to place your order by phone, please contact us directly at 888-889-0929.

You may also pick-up your order at the vineyard.